Creating an e-store is a challenging job—you need to manage inventory, process payments, and encourage shoppers to purchase more. The first difficulty that every merchant faces is the choice of the platform they are going to use. Though the success of the retail business depends a lot on picking the right software, there is no best platform for ecommerce. You have to evaluate ecommerce solutions and tools based on how well they help you fulfill particular business goals.
In this article, we discuss what features you need to look for regardless of whether you are considering a ready-made or a custom ecommerce platform. We also share our overview of the five best options to simplify your choice:
What makes a good ecommerce platform the best one?
Any decent ecommerce software should allow you to make the checkout simple, accept payments effortlessly, and get insightful sales reports. Still, this is just the foundation. Here are some other points to consider if you are looking for an online selling platform:
Ease of use. There are ecommerce platforms that require development skills to launch a store. Only fast-growing and big companies can afford to hire professional developers. So, to minimize the costs of your store launch and maintenance, check how easy it is to configure all the shop features and settings.
Sales tools and features. At the basic level, the platform should provide various shipping options and multiple payment gateways. The sales and discount functionality is a must-have as it helps merchants attract more buyers. Precise analytical reports and SEO tools are worth considering as well because they allow you to move up in SERP,  boost conversion, and polish your sales strategy.
Apps and extensions increase the capabilities of your web store. So, check that there are enough quality add-ons available on the market.
Design. Evaluate the ability to freely customize the design of your shop to make it more attractive and user-friendly. 
Help and Support. Look for ecommerce platforms or solution providers who guarantee fast customer support. Thus, you can be sure that all the faults and flops will be timely eliminated. 
Though it is becoming easier to open a web store with so many ready-made ecommerce solutions to choose from, merchants have to be very careful, as not all ecommerce platforms are equally good. The best ecommerce platform for startups will not be ideal for huge corporations, and vice versa.
What are the 5 top ecommerce platforms?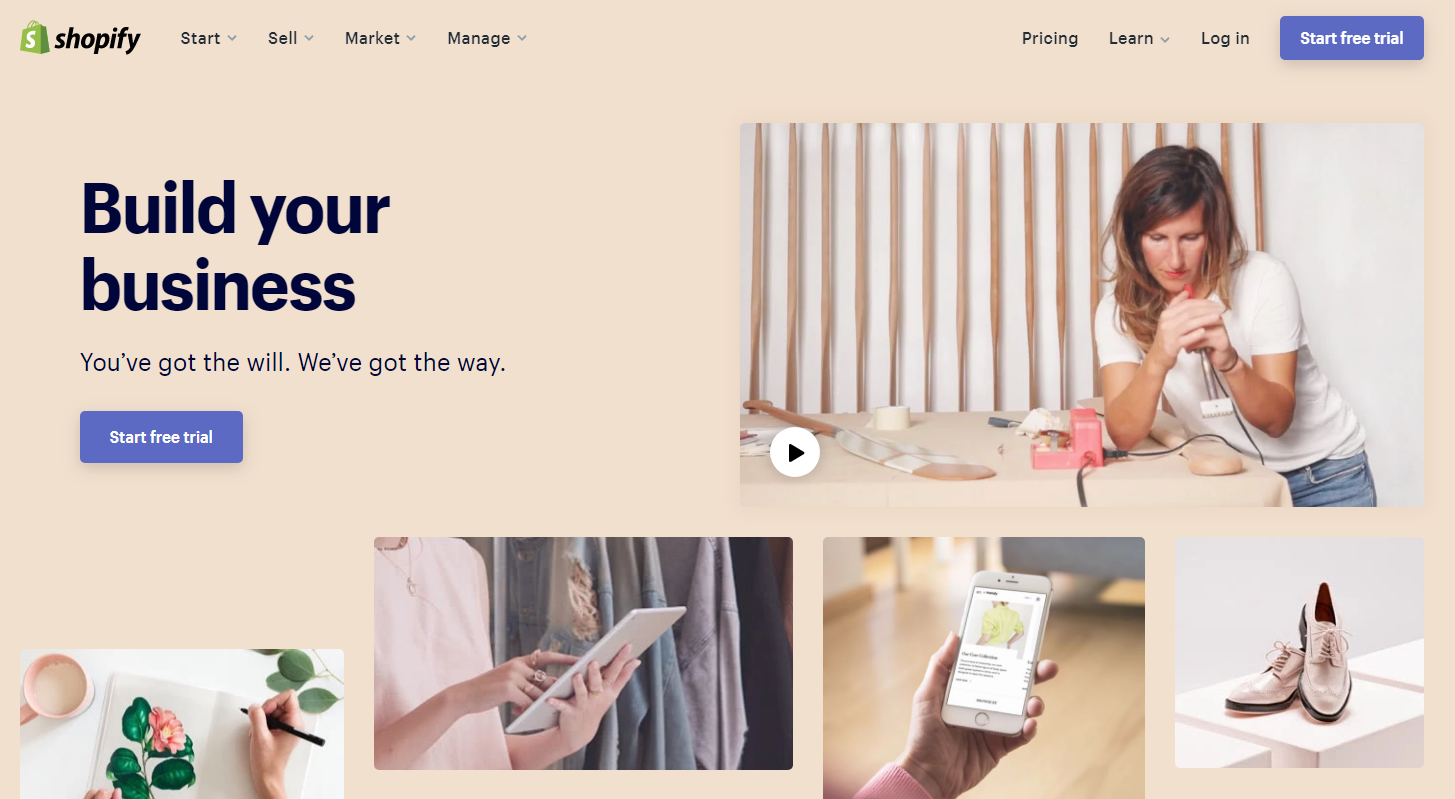 Overview
Shopify is one of the leaders in the online store software market. The platform is used by over 75,000 stores. A huge number of diverse and attractive themes makes it possible to customize the store easily. Yet, coding skills or a Shopify expert team that would do all technical work for you is still required. Shopify has built-in credit card payment acceptance and warehouse management functions.
Ease of use
Shopify claims to be a user-friendly platform. However, it can still be quite sophisticated to configure and launch for a non-tech user, so consider turning to a professional team.
Sales tools and features
Shipping
Shopify Shipping is available for orders shipped from the USA (UPS, USPS, DHL Express) and Canada (Canada Post).
Payments
There are several ways for clients to pay online with a credit card and directly via Apple Pay, Amazon Pay, and PayPal. Less traditional methods, like cryptocurrency, are also accepted. Merchants can also add accelerated checkout buttons.
Promotions
With Shopify, you can create promo codes and automatic discounts, manage and export them, as well as set discount prices for products.
Analytics
Shopify gives its users access to accurate financial reports, including taxes and payments. Inventory, customer behavior, marketing, sales, profit, and custom reports are also provided.
SEO tools
Shopify allows and provides success guidelines for adding keywords to page titles, alt texts, meta descriptions, and product page content. You can optimize the site structure, submit your sitemap to Google to help it find and index valuable pages. You are also allowed to hide certain pages from search engines to increase the efficiency of your SEO strategy.
Apps and extensions
Shopify App Store offers a vast number of extensions to help you boost ecommerce business, integrate your store with external services and tools, as well as add features to your admin panel. 
Mobile apps for Android and iOS are designed to extend the checkout capabilities and improve mobile shopping experience.
Design
There is a variety of Shopify unique templates and themes with different styles and layouts. Though you are free to customize themes with the editor, you can also change the theme code if necessary.
Help and Support
Shopify experts offer 24/7 help in launching a store in addition to the Help Center, API documentation, and Shopify forums. 
Clients
Brooklyn Museum, Adore Me, Tokyobike.
Price
Shopify fees are charged per month and depend on the edition—$29 for Basic Shopify, $79 for Shopify, and $299 for Advanced Shopify.
Overview
BigCommerce is one of the most successful children of ecommerce website builders which serves over 50,000 e-shops. It has two editions: Enterprise and Essentials. The first one is suitable for big companies, while the second one is good for small and medium-sized brands.
With BigCommerce, you can set up a store from scratch, redesign it, drive traffic through SEO, accept payments, as well as ship and fulfill orders. The platform easily integrates with eBay, Google Shopping, and other services.
Ease of use
BigCommerce provides useful guides to simplify the e-shop launch. However, it takes development skills to configure the platform.
Sales tools and features
Shipping
BigCommerce offers various shipping methods: 
Free shipping – $0
USPS Priority Mail – $6.95
FedEx Ground Home Delivery – $9.07
FedEx Priority Overnight – $15.60
Payments
As for payment methods, the integration with multiple currencies and payment gateways is included. The platform also supports online payments via Amazon Pay, PayPal, and Apple Pay.
Promotions
You can offer various types of discounts (product, order, customers, etc.) and coupons for effective promotions.
Analytics 
There are several reports included in the monthly subscription:
Metrics for merchants;
Ecommerce insights;
Analytics snapshot, covering orders, sales channels, and conversion rates.
SEO tools
Enabled HTTPS, SEO-friendly templates, easy optimization of URLs, automatically generated sitemaps, and quick linking to social media—all this you can get with BigCommerce. You can customize your headers, titles and meta tags, and run a blog.
Apps and extensions
Merchants can extend the capabilities of the web store with apps and integrations. There are over 680 apps in the BigCommerce app store.
Design
BigCommerce offers a large number of templates: 12 free themes and 127 that cost from $145 to $235. However, clients often complain that templates are not unique.
Help and Support
BigCommerce provides comprehensive support for its clients. There are communities for both clients and developers, the knowledge base, and video guides. Live support is accessible via phone, live chat, and email.
Clients
Pandora, Tyler's, Toyota, Jeep People.
Prices
The Essentials edition costs from $ 29.95 to $ 249.95 per month. The Enterprise price is set individually.
Overview
WooCommerce is an ecommerce platform designed to create e-stores based on the WordPress engine. The plugin is especially popular with medium-sized companies for the most part because it is available gratis and allows merchants to get an ecommerce CMS without big financial investments.
Ease of use
WooCommerce is not a hosted platform, so, you have to manage all the configurations and settings, as well as take care of security yourself. There is no inbuilt drag-and-drop design tool, so you also need special page builders—usually paid ones.
Sales tools and features
Shipping
You can create as many shipping zones as you like and add multiple methods and rates for each zone. There are free shipping and local pickup options (customers pick up the order themselves), as well as Flat Rate shipping (you define a standard rate per item, per shipping class, or per order). With WooCommerce, merchants can offer shopping insurance for the offered goods.
Payments
PayPal and Stripe payments are offered by default. Other popular payment service providers are accessible with add-ons. There are also many local and less popular payment services available. Besides, WooCommerce doesn't charge transaction fees.
Promotions, analytics, and SEO tools
All the promotion campaigns (discounts, coupons, and gift cards), analytics, and SEO tools are available with extensions.
Apps and extensions
There are around 40 free and 240 plugins available to extend the functionality of WooCommerce.
Design
There are 17 themes available, including three offered for free.
Help and Support
In addition to the documentation and FAQ, there is support for customers, so you can easily submit an online request just in case.
Clients
Airstream, Ghostbed, Singer, Coffee Bros.
Price
WooCommerce is free, but you'll need to acquire a domain name (around $15), SSL Certificate (around $70), and a WordPress hosting account (around $8 per month) to launch an e-shop. The prices for extensions vary from $0 to $250.
Overview
Magento is one of the most popular ecommerce platforms for web stores. At the same time, it is one of the most expensive and demanding products. It is built according to the open source model and gives you flexibility in setting up the web store. For the rich functionality and required development skills, Magento is a preferable option for medium-sized and large businesses.
Ease of use
Magento is known as a platform that is not easy to use. Indeed, it can be challenging for a beginner to set up a Magento store. Hiring developers and admins with relevant experience is the best option in this case.
Sales tools and features
Shipping
Magento offers multiple shipping options (including international shipping) and enables multi-carrier management.
Payments
PayPal, PayPal Express, pay on delivery, bank transfer, and Authorize.net options are available.
Promotions
By default, you can give customers discount coupons for specific products and offer free shipping for purchases over a certain amount. You can also schedule all promotions for a certain time to optimize sales.
Analytics
Merchants can use built-in analytics or add Magento Google analytics to get more accurate reports.
SEO tools
Magento supports managing titles and meta descriptions individually and in bulk, as well as allows creating the sitemap and applying canonical tags.
Apps and extensions
On the Magento Marketplace, there are thousands of extensions checked for plagiarism, coding standards, and compatibility.
Design
Almost all Magento themes are paid ones, but cheap. They are modern and will help you deliver a great user experience.
Help and Support
There is no 24/7 client support, but there are plenty of user guides and a lively community that can help you manage your store.
Clients
Coca Cola, Ford Warby Parker, Olympus.
Price
Though the Magento Community edition is free, you have to pay for customization, hosting, extensions, and themes to make your store powerful. The price for the Magento Enterprise edition starts from $20,000.
Overview
PrestaShop is one of the few ecommerce CMSs that is entirely free. If you want to expand the functional part, you will need to buy additional modules. This online sales platform has a convenient control panel and flexible settings. Though it is less popular than Magento, Shopify, or WooCommerce, PrestaShop has almost a complete set of basic ecommerce features.
Ease of use
Developer skills are required. Setting up PrestaShop may take time because its backend is not that user-friendly. However, there is a demo to guide you through the entire process. Good news, once you have completed the setup, integration, and configuring of modules, daily operations, such as adding products or managing orders and inventory, will be simple.
Sales tools and features
Shipping
You can add carriers, organize a "my carrier" when a buyer picks up a product himself, or call to various modules.
Payments
The payment options include PayPal, wire transfer, cash on delivery, and by check. There is also a default full-fledged payment module, PrestaShop Checkout, which is now available only for some European countries.
Promotions
You can offer coupons and free shipping, make special offers, create price rules, and change discount modes.
Analytics
With PrestaShop, merchants can monitor their progress with reports on marketing performance, traffic, as well as the insights about products' sales and customers' behavior on the store pages. This way, you can measure the impact of promotional campaigns, identify the most and the least popular products and promote the items that do not sell well. You get a statistical overview of all the currently opened shopping carts and can quickly react to cart abandonment.
SEO tools
PrestaShop allows setting meta titles, descriptions, keywords, and friendly URLs for the product and CMS pages. Yet, such crucial SEO functionality as the sitemap builder, automatic generation of meta tags, integration with Google Analytics and social media are available only with paid modules and services.
Apps and extensions
You can find more than 3,000 modules on the PrestaShop marketplace to fulfill your business goals, such as customizing your e-shop, increasing traffic, improving conversion rates, and building customer loyalty.
Design
There are more than 3,500 themes on the PrestaShop marketplace. A convenient navigator allows you to quickly find the most suitable option by picking your version, industry, theme language, and required functionality, including:
Optimized search;
Blog;
Dynamic and sticky cart;
Manufacturer and brand display in the product description;
Slider for goods, brands, and manufacturers;
Categories menu on the main page.
Help and Support
Customer support is available yet expensive. The cheapest support plan includes three hours of support per month and costs $250.
Clients
Maniac-Auto, Ferraris, Pylones, Poupadou.
Price
PrestaShop is licensed under the Open Software License (OSL), so you can download it for free. You start to pay at the stage of choosing the hosting provider, installing a theme, and adding modules.
Each product on this ecommerce platform list has its pros and cons and suits different types of merchants.
For small businesses and startups, the best online store builder should be inexpensive and simple to configure. That is why it makes sense to try Shopify, BigCommerce, or WooCommerce. As the business grows, you can unlock more advanced functionality by upgrading the ecommerce platform plan (for Shopify and BigCommerce) and adding plugins. After studying the guides and browsing the community articles, you can launch a small to medium-sized online store with basic functions and a template-based design. However, to get a full-fledged ecommerce solution based on one of these three platforms, you still need the help of skilled developers.
Big companies and ecommerce brands which seek the possibilities of unlimited customization, nontrivial features, and full control over the e-shop will find either Magento or PrestaShop the best platform to sell online.
We hope this article helped you pick the most suitable option in your case. For more information, check our detailed ecommerce platforms comparisons:
Feel free to share your ideas in the comments below and stay tuned!