Choosing the best option between two powerful e-commerce site builders for your business, you may rely on your intuition. However, even the most common and superficial review can be useful and can structure your thoughts, helping in making the right choice.
In this quick review, we compare and define key pros and cons of two of the leading online store building tools – Shopify and BigCommerce.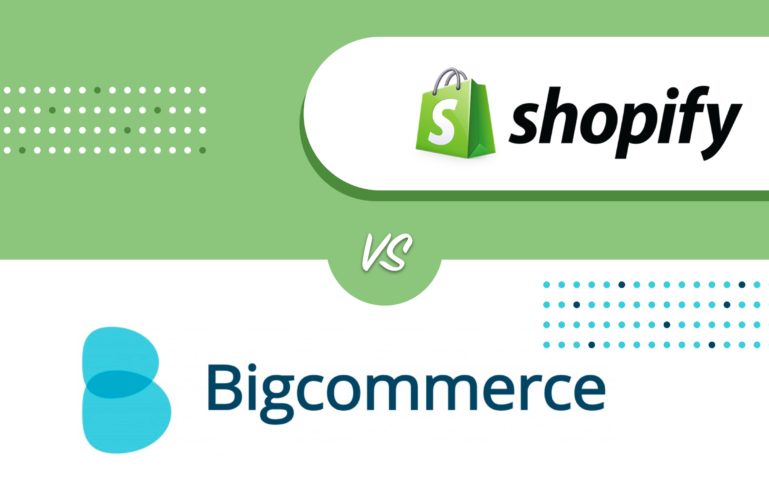 Hopefully, by the end of the review, you'll know which one looks like the best e-commerce platform right for your business.
BigCommerce and Shopify: what are these services for?
The main mission of the platforms is allowing you to sell digital or physical products online. Both of them run in a web browser. It means that you can manage your store from any place where is an internet connection.
Shopify and Bigcommerce in 2019 reality assist you to build an online store without the need to design or code anything. All you need is just to choose a template, upload your products, define pricing and everything is all set.
Both services are SaaS tools (software as a service). It obligates you to pay a monthly or annual fee for access to the software.
When comparing two ecommerce giants, it is important to consider the following factors:
Ease to use
Ease of use is a factor that will concern you no matter you're a beginner or an experienced e-commerce guru who manages a dozen online stores. This factor will never stop being important.
Best sales features
A sales feature set covers everything from transaction fees to shipping options. Choosing the best service users definitely want to make sure they get the best of the best.
Both Shopify and Bigcommerce propose more than enough features to set up and run professional online stores, allowing you to create products, optimize them according to SEO principles, manage inventory and apply a wide range of payment gateways. Both e-commerce platforms offer essential features, such as:
An SSL certificate that protects a store and validates it as a safe place to process online payments.
Abandoned Cart Recovery.
Multichannel selling across such platforms as Facebook, Instagram, and Pinterest.
Powerful inventory, meaning that you can upload products, track stock levels, and keep the store up to date.
Customer support
Running an e-commerce site like any other online project without the right support will fail.
Most of the ecommerce builders propose the standard support options like 24/7 live chat and phone support, emailing, Help center and forum, insightful video tutorials and advanced specialists for supporting.
Design
A first impression means a lot. You will not have a second chance to make it. Choose a platform with attractive design, because even the most powerful features will be useless if your visitors leave your site before they've even started browsing.
To be honest, Shopify and BigCommerce do not have the same focus on design as other builders, for example, Squarespace or Wix. They are sales driven rather than design-orientated.
Pricing plans
One of the first questions, which users have about e-commerce site builders, is "How much do they cost?"
Both Shopify and BigCommerce offer free trials. Shopify's price plans range from $29 to $299 per month. BigCommerce offers prices plans starting from $29.95 per month and up to customized pricing on the most advanced Enterprise plan.
Now let's dive into the details…
SHOPIFY
1. Ease to use
Shopify has perfect features and design to prove that it is really simple in appliance. The platform beats BigCommerce because of its user-friendly and clear design.
The service helps to set up an online store and users find it easy to create their e-commerce sites, praising the onboarding process and user-friendly editor.
2. Sales features
Shopify has tons of high-quality sales features to support your business. It provides an extensive app store, resulting in a vast number of features to choose from.
Using the Shopify's app store, you can add whatever you want to your e-commerce site, without limits to the features included in-house.
Shopify empowers you to manage your ecommerce store wherever you are with the mobile app. A convenient payment is another great feature from Shopify. You get its own payment gateway instead of signing up with a separate payment gateway so you can manage all your money in its dashboard.
3. Support
Shopify supports 24/7. Before being given access to the contact details you're looking for, you have to search for solutions to your problem.
Requesting help within the Shopify editor, you will be directed to a relevant page within the Shopify knowledge center. It looks really helpful and makes Shopify more preferable.
Besides the standard options, Shopify also offers support through social media.
4. Design and themes
Shopify offers 10 free and over 50 paid themes. They vary in price and come in a range of styles and industries. You may easily find your perfect theme by searching via layout, industry, navigation style, etc.
Shopify's themes look modern and professional, you may switch them any time, although some of your content will need reformatting. These themes are easy to customize.
5. Pricing
Shopify offers 5 pricing plans. You can unlock a range of powerful features when you upgrade from the Basic plan ($29 per month) to the Plan with $79 per month.
The Shopify Basic provides users with everything they need to launch a business (24/7 support, abandoned cart recovery, unlimited number of products to sell through the store).
BIGCOMMERCE
1. Ease to use
BigCommerce is sometimes evaluated as not the perfect solution regarding ease to use. Some users think that the editor is difficult to navigate and the language hard to understand. It is not the best solutions for beginners. Moreover, it's better to be tech savvy to understand the BigCommerce terminology, otherwise, you will often visit Google to every time you will need to add new products to your store
BigCommerce's built-in features look great but they make it a much harder platform to get used to.
2. Sales features
BigCommerce provides users with a strong professional of features to sell physical, digital, and service-based products through the site.
Choosing BigCommerce, you can be sure that you have high-quality features right at your fingertips. All three product types are built-in to a BigCommerce store. It means that you do not need to buy apps to allow these sales – you can sell straightly.
The main thing here is that with BigCommerce, you get everything from the start. The only global drawback is its lack of a mobile app. You can't manage your store on the go.
3. Support
Bigcommerce provides users with professional 24/7 support across phone, email and live chat. The Help center in BigCommerce looks less clear than Shopify's. BigCommerce does not offer such a support channel as social media.
Actually, BigCommerce offers the help of an onboarding consultant as part of the Enterprise plan.
4. Design and themes
Using BigCommerce, you will get 7 free themes and over 50 purchasable ones. Like in Shopify, you are able to sort these by industry, layout, and price.
There are many industries to choose from, although not as many as in Shopify. What's more important, BigCommerce's themes are reformatted to fit mobile and tablet screens. However, some people may say that BigCommerce's free themes look a little outdated.
5. Pricing
Bigcommerce offers 4 pricing plans. You can also unlock wonderful features when you upgrade from the lowest price plan to the Plus Plan ($71.95 per month).
The Plus plan is the most popular among the other Big commerce's plans. It includes better tools to help your business succeed.
Thanks to the built-in features, what you see is what you get, and this is the real upside of BigCommerce's pricing policy.
Summing up
Shopify and BigCommerce are big and powerful competitors, so whichever you select, you will definitely receive stellar service.
There are some crucial differences, so you should take some time to study all of them if you want to chhose the best option right for your needs.
Shopify seems easier to use, it's suitable for online stores of all shapes and sizes. This platform provides the tools to see you succeed.
BigCommerce looks more difficult to implement, however it may be better for large and fast-growing businesses. It is one of the most scalable e-commerce platforms on the market.