Shopify and BigCommerce are powerfull ecommerce platforms delivered according to the SaaS model. They help merchants launch a basic online store without the need to code and support customization for those who seek more advanced functionality and catchier design. In this quick overview, we compare the pros and cons of these two leading online store building tools.

Hopefully, in a couple of minutes, you will know which one is the best ecommerce platform for your particular business.
Key criteria to compare
When comparing two ecommerce giants, it is important to consider the following factors.
Usability
The ease of use of the software concerns beginners and experienced ecommerce gurus equally. Below we will look at how simple it is to configure both platforms. 
Functionality
The strength and diversity of default features influences how quickly you can set up a store and start selling. 
Both Shopify and Bigcommerce offer an essential feature set for ecommerce, allowing you to add products, optimize catalogs according to SEO principles, manage inventory, and use a wide range of payment gateways. They cover such functionality as:
An SSL certificate that protects the store and validates it as a safe place to process online payments;
Abandoned cart recovery;
Multichannel selling across such platforms as Facebook, Instagram, and Pinterest.
Powerful inventory management with tracking stock levels.
Design
The first impression means a lot. You will not have the second chance to make it. Choose the platform with an attractive design, because even the most powerful features will be useless if your visitors leave your site before they even start browsing.
To be honest, Shopify and BigCommerce do not have the same focus on design as other ecommerce tools, for example, Squarespace or Wix. They are sales-driven rather than design-orientated.
Customer support
Running an ecommerce site without the right support is a sure failure. Support options range from insightful video tutorials and forums to help centers available 24/7 via live chat, phone, email, and social media.
Pricing plans
One of the first questions, which users have about ecommerce site builders, is "How much does it cost?"
Both Shopify and BigCommerce offer free trials. Shopify's price plans range from $29 to $299 per month. BigCommerce pricing starts from $29.95 per month and rise up to individual quotes for the most advanced Enterprise plan.
Now let's dive into the detail.
Shopify
#1. Usability
Shopify beats BigCommerce in terms of user-friendly store administration features and clear design. Taking into account the templates, themes, and feature guides, you don't need coding skills to launch a small store (though with not very sophisticated functionality).
#2. Features
Shopify has tons of high-quality sales features for ecommerce business. Depending on the chosen pricing plan, you can access different toolkits for the management of inventory, products, shipping, payments, and promos. There are also nice nontrivial features, such as mobile POS integration, abandoned cart recovery,  fraud prevention, and promos. 
Still, to create an indeed robust online store with all the needed functionality, merchants often have to turn to Shopify developers and install some add-ons from the Shopify App Store.
As Shopify is mobile-friendly, store management is convenient and fast wherever you go. Payment processing is another strength of Shopify. You get the Shopify payment gateway instead of the need to sign up with a separate payment processor, so you can manage all your transactions in Shopify.
#3. Support
The Shopify support works 24/7. To resolve issues faster, Shopify first automatically scans solutions to similar problems in the knowledge base and the Shopify community. If there are no relevant records, you have several support options to choose from: via chat, Twitter, email, or by phone.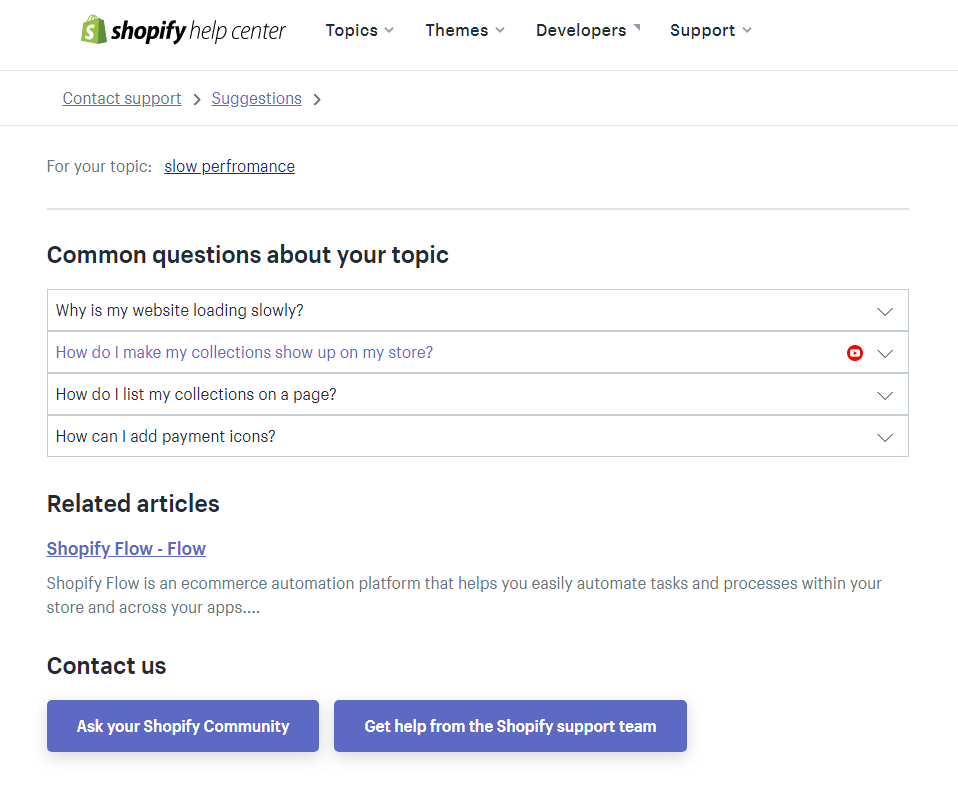 Such handy suggestions help you find solutions to your problems much faster and give Shopify one more point for convenience. 
#4. Design and themes
Shopify offers 10 free and over 60 paid themes. They vary in price and styles to suit a range of industries and budgets. You can easily find your perfect theme while searching by layout, industry, built-in navigation elements, and other criteria. If there is no ideal one for your case, you can customize its elements or ask professionals to build a custom one.
Overall, Shopify's themes look modern and professional. You can switch between them any time with several tweaks to your content formatting. 
#5. Pricing
Shopify offers 3 pricing plans. You can unlock a range of powerful features when you upgrade from the Basic plan ($29 per month) to the Advanced Shopify plan ($299 per month). The differences lie in the number of admins and availability of certain functionality, such as promos, reports, third-party shipping rates, and others.
Good news, the Shopify Basic offers enough features to a retail business, and you can upgrade your plan as you grow bigger.  
BigCommerce
#1. Usability
BigCommerce is sometimes evaluated as far from being perfect when it comes to the ease of use. Users claim that the editor is difficult to navigate and requires tech skills to understand the terminology. So, if you are a beginner and don't want to google a lot just to launch your store, BigCommerce is not the best option. 
#2. Features
BigCommerce provides users with a strong set of features to sell physical, digital, and service-based products through the website. The platform supports all three product types by default and doesn't require extra extensions for that. All pricing plans include functionality for managing and shipping products, as well as reports, discounts, single-page checkout, integration with popular payment services, POS, and social media. 
Depending on the chosen plan, BigCommerce users can sell up to a certain limit and access particular features, such as custom SSL, faceted search, price lists, and others. The main drawback is the lack of a mobile app, which limits the opportunities to manage the BigCommerce store on the go.
#3. Support
BigCommerce professional support is accessible 24/7 via phone, email, and live chat. The Help center in BigCommerce looks works similar to the ones of Shopify. You can browse the knowledge base and community for relevant questions and after that contact through any preferable means. BigCommerce does not offer such a support channel as social media.
Also, BigCommerce provides an onboarding consultant as part of the Enterprise plan.
#4. Design and themes
With BigCommerce, you get 12 free themes and over 127 paid ones. Like in Shopify, you can sort templates by industry, layout, and price.
There are many industry-focused design solutions to choose from, although not as many as in Shopify. What's more important, BigCommerce themes are crafted to fit mobile and tablet screens. However, some people can say that BigCommerce free themes look a little outdated.
#5. Pricing
BigCommerce offers four pricing plans. The Plus plan is the most popular because it includes all the essentials and is cost-effective ($80 per month). In general, the BigCommerce pricing plans are close to the Shopify price range. Yet, BigCommerce also offers discounts for annual subscriptions.
Summing it up
Shopify and BigCommerce are powerful competitors, so whichever you select, you will definitely receive stellar service. Shopify seems easier to use; it's suitable for online stores of all shapes and sizes. BigCommerce looks more difficult to implement; however, it may be better for large and fast-growing businesses. It is one of the most scalable ecommerce platforms on the market.
To learn more about ecommerce platforms, check other overviews by our team:
Feel free to comment below and stay tuned!